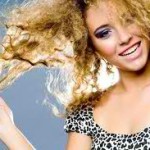 I was driving through H-Town the other day when it hit me…too many women are suffering from the same problem Frizzy Hair! Yes humidity can be a hairstyle nightmare, so here are a few quick and easy tips to get rid of the Frizz for good!
1.) GET A TRIM
Split ends are more likely to Frizz up than newly cut ones are
2.) CONDITION, CONDITION, CONDITION
Conditioner is a great moisturizer. It also changes the texture of your hair, making it soft and manageable
 3.) TRY SETTING LOTION
Setting lotion will give your hair great hold and shine for any style
4.) USE MOUSSE
Mousse is a lightweight foam that will give hair movement and long lasting hold to any style
5.) WEAR AN UPDO
Twisties, Curls, a loose braid, any of these trendy styles will work.
Just remember that product choice is everything!
You will probably have to try different products until you find the one that works for you.
A few of my personal favorites
Olive Oil shampoo/ and Deep conditioner ($6.84 at target)
Mixed Silk Leave-in conditioner ($7.99 at Sally's Beauty)
Smooth Shine Polishing Mousse ($5.12 at walmart)
Cantu Sheen spray (for those who nee a little extra shine) $6.69 on amazon.com