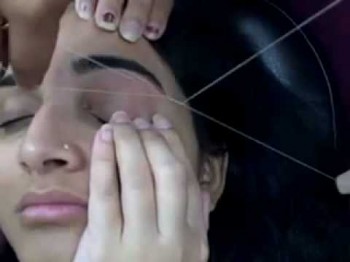 Here is a brief (not so brief) synopsis of why I prefer getting my eyebrows threaded over getting them waxed. In my opinion the results of threading lasts longer.
For example when I get my eyebrows threaded it normally takes about 2 to 3 weeks until I start to see regrowth. On the other hand, when I get my brows waxed I start to notice regrowth in about a week and a half. Now I know what some of you are thinking…"Dosen't threading hurt??" I get asked that a lot, and the answer is YES! it is very painful, but Waxing is just as painful in my book. The difference is the threading results are totally worth it!
Threading give my brows a sharper, more defined shape. In addition threading does not leave an oily residue like waxing does. That same oily residue has caused me to have many breakouts in the past. Annoying forehead breakouts that I have not had since I switched to threading.
The only good thing about waxing is the price. Where I currently live waxing is about $5.00, that is about $5.00 cheaper than the place where I get my brows threaded. However, once you factor in how many more times you will need to get your brows waxed vs. threaded per month it pretty much totals the same price
~PRETTY GIRL TIP: Ladies please do not use razors to shape your brows. Razors make hair grow back thicker, and they often cause hair bumps. Not attractive lol
check out these before and after pics below
What do you think??